Collaboration in Scrum refers to the Scrum Core Team working together and interfacing with the stakeholders to create and validate the deliverables of the project to meet the goals outlined in the Project Vision. It is important to note the difference between cooperation and collaboration here. Cooperation occurs when the work product consists of the sum of the work efforts of various people on a team. Collaboration occurs when a team works together to play off each other's inputs to produce something greater.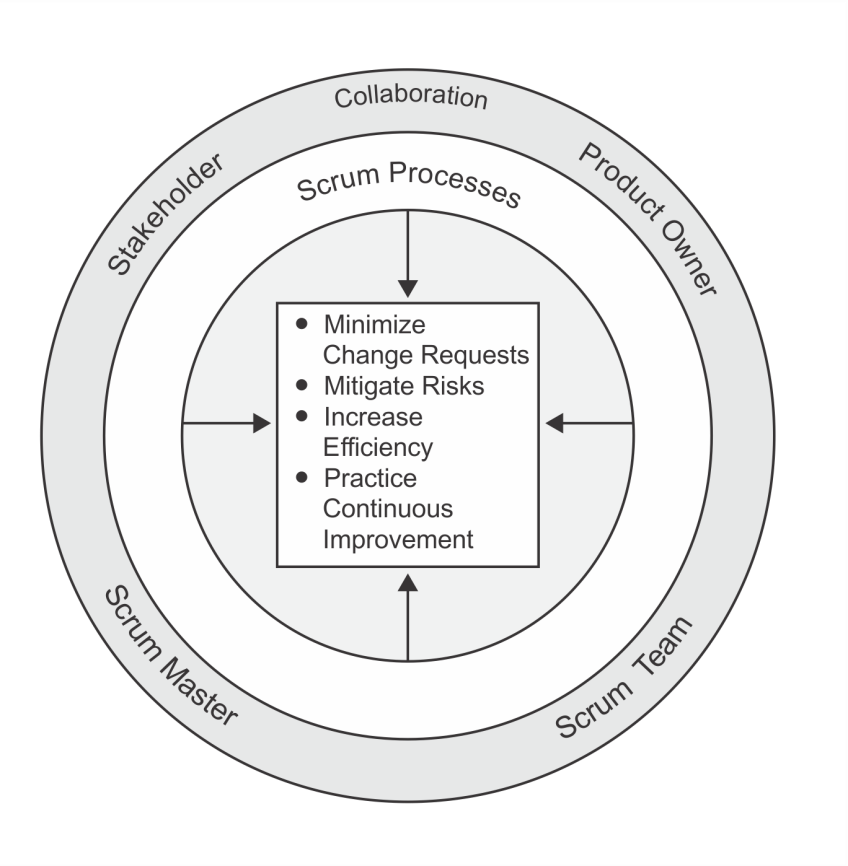 The core dimensions of collaborative work are as follows:
Awareness—Individuals working together need to be aware of each other's work.
Articulation—Collaborating individuals must partition work into units, divide the units among team members, and then after the work is done, reintegrate it.
Appropriation—Adapting technology to one's own situation; the technology may be used in a manner completely different than expected by the designers.
Collaboration ensures that the following project benefits are realized:
The need for changes due to poorly clarified requirements is minimized.
Risks are identified and dealt with efficiently. For example, risks to the project are identified and assessed in the Develop Epic(s), Create Deliverables, and Conduct Daily Standup processes by the Scrum Core Team members. The Scrum meeting tools such as the Daily Standup Meeting, Sprint Planning Meeting, Prioritized Product Backlog Review Meeting, and so on provide opportunities to the team to not only identify and assess risks, but also to implement risk responses to high-priority risks.
True potential of the team is realized. For example, the Conduct Daily Standup process provides scope for the Scrum Team to collaborate and understand the strengths and weaknesses of its members. If a team member has missed a task deadline, the Scrum Team members align themselves collaboratively to complete the task and meet the targets agreed to for completing the Sprint.
Continuous improvement is ensured through lessons learned. For example, the Scrum Team uses the Retrospect Sprint process to identify what went well and what did not go well in the previous Sprint. This provides an opportunity to the Scrum Master to work with the team to rework and improve the team for the next scheduled Sprint. This will also ensure that collaboration is even more effective in the next Sprint.