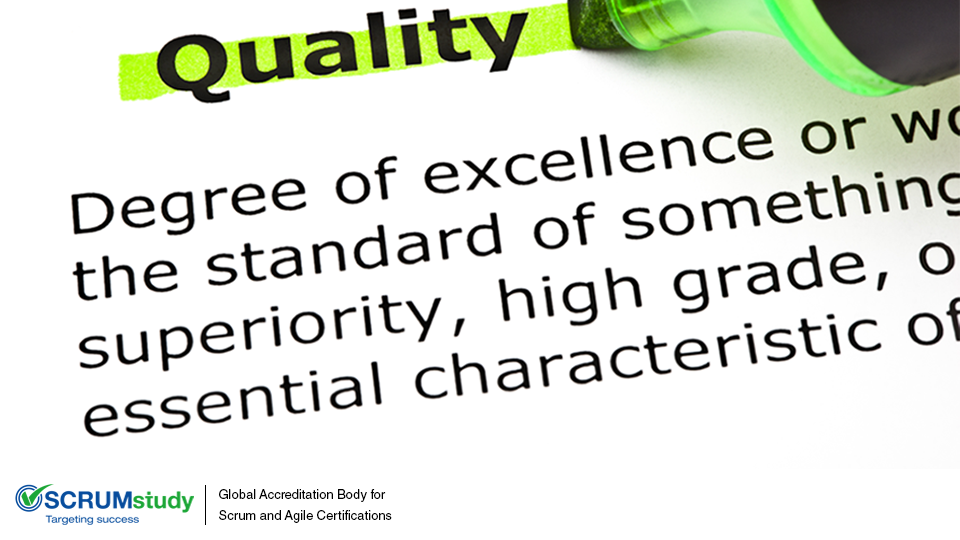 Competing video game companies—one that operates inside of the Scrum framework and one that does not—release similar games around the same time. The graphics and story-lines in each are fantastic. As gamer's button mash their way through the campaigns, however, disparities emerge. Unlike its competitor, the company that operates inside of the Scrum framework finds little need to release patches for various game-play glitches. This is because those issues were neutralized during the company's iterative quality testing throughout the production process—also known as Sprints—rather than saving that critical part of the process for the last minute.
In Scrum, quality is defined as the ability of the completed product or deliverable to meet the Acceptance Criteria and achieve the business value expected by the customer, according to A Guide to the Scrum Body of Knowledge (SBOK™ Guide). From small projects with six team members to large, complex projects with hundreds of team members, Scrum can be applied effectively to ensure quality is a staple in the production process.
To achieve this, Scrum adopts an approach of continuous improvement whereby the team learns from experience and stakeholder engagement to constantly keep the Prioritized Product Backlog updated with any changes in requirements. Any changes to the requirements reflect changes in the internal and external business environment and allow the team to continually work and adapt to achieve those requirements.
Since Scrum requires work to be completed in increments during Sprints, this means that errors or defects get noticed earlier through iterative quality testing, rather than when the final product or service is near completion. Moreover, important quality-related tasks—development, testing, documentation—are completed as part of the same Sprint by the same team. This ensures that quality is inherent in any deliverable created as part of a Sprint.
Continuous improvement with repetitive testing optimizes the probability of achieving the expected quality levels in a Scrum project. Constant discussions between the Scrum Core Team and stakeholders (including customers and users) along with actual increments of the product being delivered at the end of every Sprint reduces the gap between customer expectations and actual deliverable.
Between competitors, oftentimes it's "game on." But when a company commits to quality while operating within the Scrum framework, it's game over.