In Scrum, the risk management activities are divided among various roles with some responsibility resting with everyone in the Scrum Team and the Scrum Master facilitating the process. Risk management is integral to ensuring value creation; therefore, risk management activities are performed throughout the project lifecycle and not just during project initiation.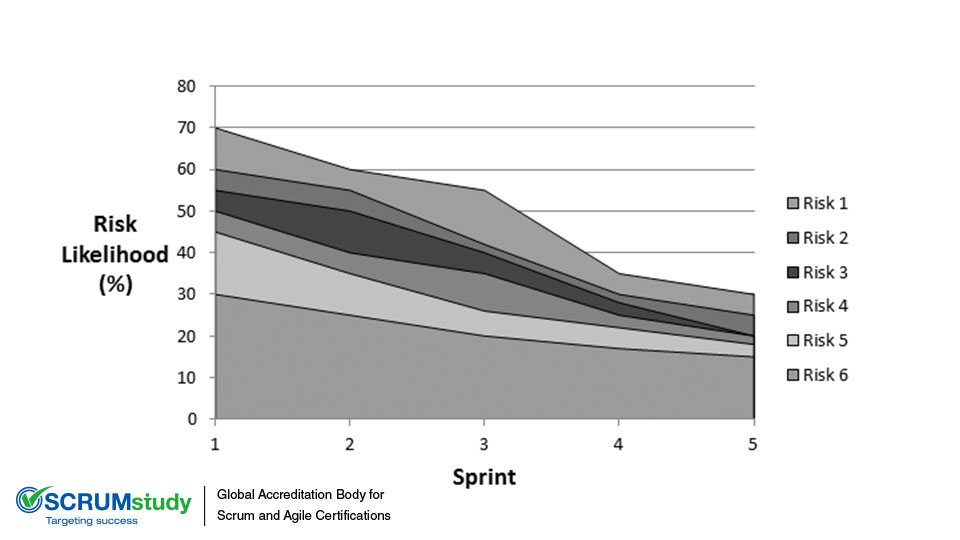 Each risk could be assessed using different Risk Assessment tools. However, the preferred tool for assessing risks to create a Risk Burndown Chart is Expected Monetary Value (EMV).
The information gathered during risk assessment may be used to create a Risk Burndown Chart. This depicts cumulative project risk severity over time. The likelihoods of the various Risks are plotted on top of each other to show cumulative risk on the y-axis. The initial identification and evaluation of risks on the project and the creation of the Risk Burndown Chart are done initially. Then, at predetermined time intervals, new risks may be identified and assessed and remaining risks should be re-evaluated and updated accordingly on the chart. An appropriate time to do this is during the Sprint Planning Meeting. Tracking risks in this manner allows the team to recognize trends in risk exposure and take appropriate action, as necessary.