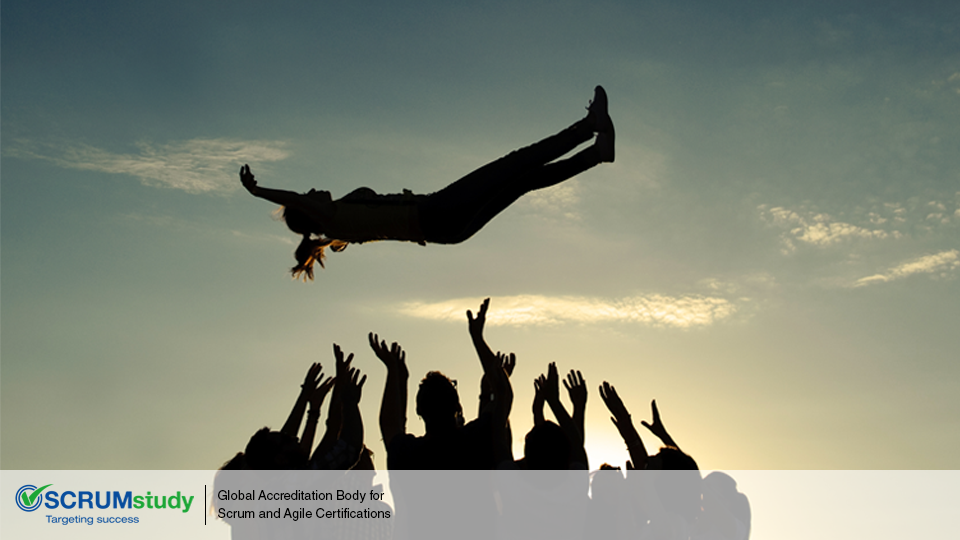 When something goes wrong with a project, who gets blamed?
If you are the Product Owner, Scrum Master or Project Manager, you're probably saying that the leader gets the blame. If you're a Scrum Team or development team member, you're probably saying, "We always get blamed."
What if the reality of the situation is it's a bit of both, and both failures could be solved by a purposeful application of skilled follower-ship?
Rob Asghar wrote about this recently in his Forbes article "Why Followership Is Now More Important Than Leadership." He makes a strong point that "Good, skilled followers are able to nurture good leadership." He adds that "It's a lost art in our narcissistic times."
The article, which is worth reading, provides enough information to see that following Scrum principles and practices can—and already do—produce skilled followers who nurture their fellow coworkers and even their bosses.
The first of Asghar's "five steps that you can take to nurture better leaders in your workplace" is "Stop being a consumer, and start being a producer" and includes this direction: "See yourself as a scout, producer and nurturer of talent that others might overlook."
Scrum focuses on "today's workers, who deliver significantly greater value when self-organized and this results in better team buy-in and shared ownership," according to A Guide to the Scrum Body of Knowledge (SBOK™). Team buy-in and ownership encourage team members to see themselves as producers and not spectators with the right to criticize.  Self-organized teams foster an "innovative and creative environment, which is more conducive for growth."
The Scrum Master certification course provided by SCRUMstudy Authorized Training Partners adds, "When selecting teams, another important aspect is to create backups for every person. Every member of the team will back up a 'specialist' member, which enhances the skill sets of team members." Each specialist becomes responsible for teaching and nurturing the team member who is going to be his or her backup. Being a leader—even to just one other—begins to build an understanding of what issues managers and Product Owners face.
"Stop to listen attentively when a normally reserved member of the staff speaks up at a meeting" is another of Asghar's steps. For Scrum Team members, learning this skill begins and is reinforced in the Daily Standup Meeting. Each member answers three questions, one of which is "What impediments am I facing in finishing my task?" When this is answered, the other team members take note and then meet with that coworker after the Standup to help find solutions. Listening without interrupting becomes very important in this setting, and it occurs in a group with no anonymity. The group knows who listens and helps and who does not.
Asghar says, "See yourself as a craftsperson, with each head-nod and each moment of applause helping polish a jewel or blossom a bud." Opportunities for such leadership molding craftsmen come in the Retrospect Sprint and Retrospect Project meetings during a Scrum project. During the Retrospect Sprint meeting, "the Scrum Team gets together to review and reflect on the previous Sprint in terms of the processes followed, tools employed, collaboration and communication mechanisms, and other aspects relevant to the project. The team discusses what went well during the previous Sprint and what did not go well, the goal being to learn and make improvements in the Sprints to follow," says the SBOK™. Notice the emphasis is on "what went well"—some head nodding—and then on "what did not go well" —some head shaking, perhaps.
During the retrospect meetings, members have the opportunity and onus of evaluating everything that happened in the Sprint and project. In the Retrospect Sprint meetings, any concerns with a leader can be discussed freely and passed onto that leader through the Scrum Master, who can put the most appropriate and effective spin on it. During the Retrospect Project meeting, which requires the Product Owner's presence, the team members get to interact with leadership in an open meeting designed to face problems and find solutions. The lessons learned part of these meetings is a training school for both workers and leaders.
The ability to nurture leaders—and workers—to avoid things that go wrong in a project and make continual improvements is possible through Scrum and SCRUMstudy.
For interesting articles about Scrum and Agile, visit www.scrumstudy.com/blog