The Scrum framework is driven by the goal of delivering maximum business value in a minimum time span. One of the most effective tools for delivering the greatest value in the shortest amount of time is prioritization.
Prioritization can be defined as "Determination of the order and separation of what must be done now, from what needs to be done later". The concept of prioritization is not new to project management. The traditional Waterfall model of project management proposes using multiple task prioritization tools. From the Project Manager's point of view, prioritization is integral because certain tasks must be accomplished first to expedite the development process and achieve the project goals.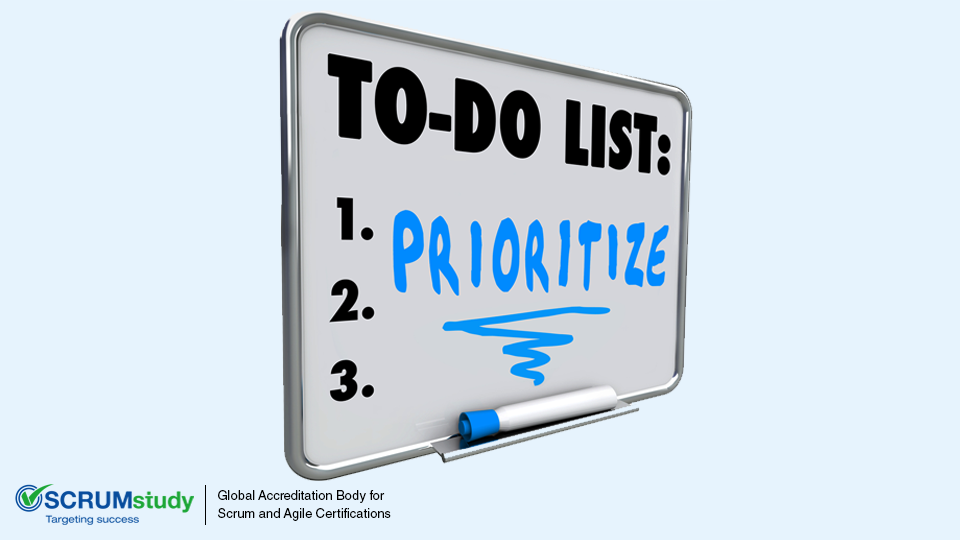 Some of the traditional techniques of task prioritization include setting deadlines for delegated tasks and using prioritization matrices. Scrum uses Value-based Prioritization as one of the core principles that drives the structure and functionality of the entire Scrum framework—it helps projects benefit through adaptability and iterative development of the product or service.
More significantly, Scrum aims at delivering a valuable product or service to the customer on an early and continuous basis. Prioritization is done by the Product Owner when he or she prioritizes User Stories in the Prioritized Product Backlog. The Prioritized Product Backlog contains a list of all the requirements needed to bring the project to fruition.
Once the Product Owner has received the business requirements from the customer and written these down in the form of workable User Stories, he or she works with the customer and sponsor to understand which business requirements provide maximum business value.
The Product Owner must understand what the customer wants and values in order to arrange the Prioritized Product Backlog Items (User Stories) by relative importance.
Prioritization results in deliverables that satisfies the requirements of the customer with the objective of delivering the maximum business value in the least amount of time.
For interesting articles about Scrum and Agile, visit www.scrumstudy.com/blog