Scrum is a framework for collaborative effort of the team on some of the very complex software projects. It is the most widely-used subset of Agile. The Scrum principles are the fundamental guidelines for applying Scrum framework. The Scrum framework drives on the goals of giving utmost business value in least time.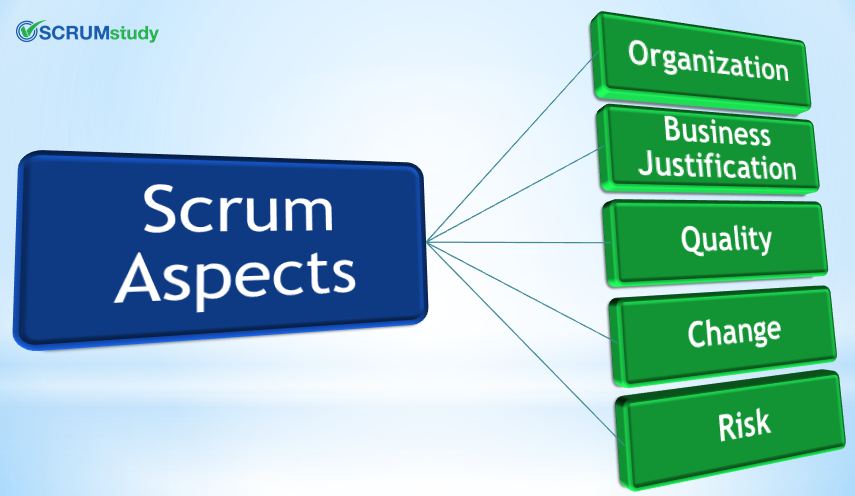 Various Scrum aspects are derived and are very essential to be addressed and managed throughout a Scrum project. Here are the five Scrum aspects as mentioned in the SBOK™ Guide
Organization: Understanding defined roles and responsibilities in a Scrum project is very important for ensuring the successful implementation of Scrum. Scrum roles fall into two broad categories; Core Roles (which includes Product Owner, Scrum Master, Scrum Team) and Non-core Roles (which includes Stakeholder, Scrum Guidance Body, Vendors, Chief Product Owner, Chief Scrum Master)
Business Justification: Business justification in Scrum is based on the concept of Value-driven Delivery. It is impossible to guarantee project success at completion, irrespective of the size or complexity of a project.
Quality: Quality is defined as the ability of the completed product or deliverables to meet the Acceptance Criteria and achieve the business value expected by the customer. The Scrum Guidance Body may also provide guidelines about quality which may be relevant to all Scrum projects in the organization.
Change: Every project, regardless of its method or framework used, is exposed to change. Scrum projects welcome change by using short, iterative Sprints that incorporate customer feedback on each Sprint's deliverables. This enables the customer to regularly interact with the Scrum Team members, view deliverables as they are ready, and change requirements if needed earlier in the Sprint.
Risk: Risk is defined as an uncertain event or set of events that can affect the objectives of a project and may contribute to its success or failure. Risks should be identified, assessed, and responded to basing on two factors: the probability of each risk's occurrence and the possible impact in the event of such occurrence.
SCRUMstudy certification courses offer a detailed description of all these Scrum aspects. Please visit www.scrumstudy.com for more details on SCRUMstudy certifications.