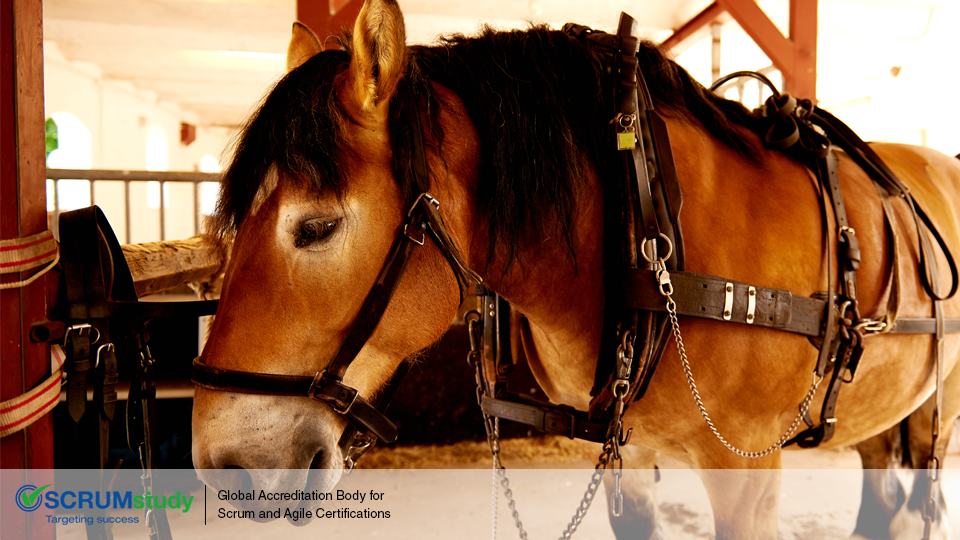 The reason many people dread Monday mornings can be seen in Douglas McGregor's observation that "The conventional conception of management's task in harnessing human energy to organizational requirements can be stated broadly in terms of three propositions." It's that word: harnessing.
Even though few people have direct experience with using a harness to affix old Dobbins to the sledge, most share an understanding of being forced to pull a load with someone else yanking at the reins. We feel trapped, controlled and micro-managed. After running free in the paddock all weekend, getting back in the traces rubs us the wrong way.
McGregor termed the "conventional conception" he saw as "Theory X," offered an alternative called "Theory Y" and began a major shift in business management with the publications of The Human Side of Enterprise in 1957 and 1966.
The three propositions he observed are:
"1. Management is responsible for organizing the elements of productive enterprise—money, materials, equipment, people—in the interest of economic ends.
2. With respect to people, this is a process of directing their efforts, motivating them, controlling their actions, modifying their behavior to fit the needs of the organization.
3. Without this active intervention by management, people would be passive—even resistant—to organizational needs. They must therefore be persuaded, rewarded, punished, controlled—their activities must be directed."[1]
He noted five additional beliefs supporting Theory X management, among which are:
4. The average man is by nature indolent—he works as little as possible.
5. He lacks ambition, dislikes responsibility, prefers to be led.
7. He is by nature resistant to change.
A quick perusal of proposition number 3 and these three beliefs begins to reveal why Theory X managers just don't get Scrum.
Scrum derives direction from six key principles, and key among them is self-organization. This principle focuses on today's workers, who deliver significantly greater value when self-organized and this results in better team buy-in and shared ownership; and an innovative and creative environment that is more conducive to growth, according to A Guide to the Scrum Body of Knowledge (SBOK™). The concept of self-organizing teams requires team members to be self-motivated, and to participate and contribute fully toward meeting the project goals. These workers are not "passive to organizational needs," indolent and disliking responsibility. The theory X leader who expects to "control" these types of workers experiences a terrific mismatch with the people who actually show up to get the job done.
In fact, ideal members of the Scrum Team are independent, self-motivated, customer-focused, responsible and collaborative. While the theory X manager thinks his job is "a process of directing their efforts, motivating them, controlling their actions, modifying their behavior to fit the needs of the organization," Scrum says the "team should be able to foster an environment of independent thinking and group decision-making in order to extract the most benefits from the structure" (SBOK™, 156).  Theory X man is going to feel really out-of-place.
McGregor lists needs that can produce motivation: physiological needs ("A satisfied need is not a motivator of behavior! This is a fact of profound significance"), safety needs, social needs, ego needs and self-fulfillment needs. Describing self-fulfillment, Douglas says, "Finally—a capstone, as it were, on the hierarchy of man's needs—there are what we may call the needs for self-fulfillment. These are the needs for realizing one's own potentialities, for continued self-development, for being creative in the broadest sense of that term." The SBOK™ matches this, saying "To be successful, a Scrum Team needs both core and non-core team members who have reached the esteem or self-actualization levels . . . The Scrum Master's goal is to work with individuals on the team to build their skills and knowledge and help them move up the needs hierarchy" (SBOK™, 64).
Douglas says about the difference between Theory X and his alternative, Theory Y, "Another way of saying this is that Theory X places exclusive reliance upon external control of human behavior, whereas Theory Y relies heavily on self-control and self-direction. It is worth noting that this difference is the difference between treating people as children and treating them as mature adults."
Obviously, Scrum treats professionals as adults. It's nice to sit at the "grown-ups' table," isn't it?
For more interesting articles about scrum and agile, visit www.scrumstudy.com/blog
---
[1] From McGregor, Douglas, "The Human Side of Enterprise." Leadership and Motivation, Essays of Douglas McGregor, edited by W. G. Bennis and E. H. Schein (Cambridge, MA: MIT Press, 1966): 3–20. As published in REFLECTIONS, Volume 2, Number 1.