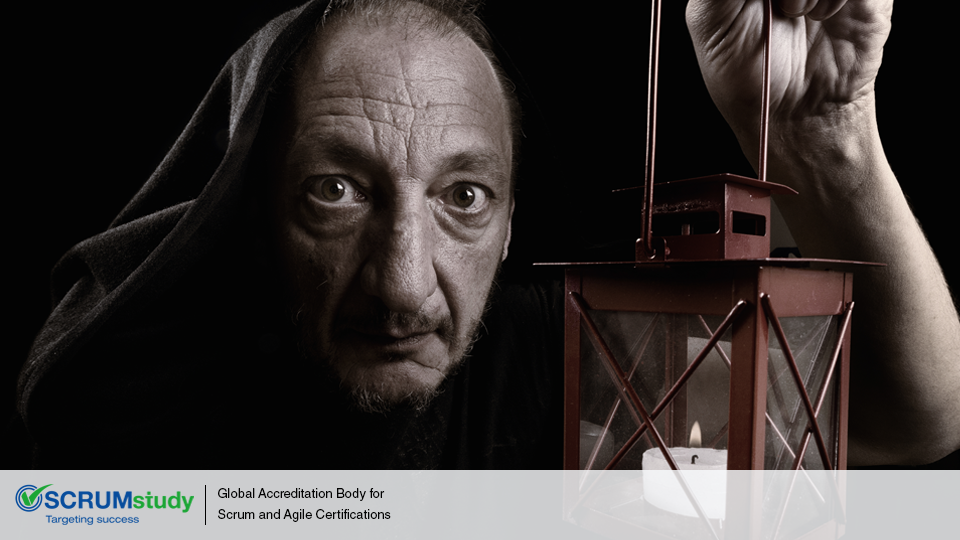 Using the term "master" to describe someone's boss today often conjures images of Igor addressing Dr. Frankenstein, Renfield heeding Count Dracula's dark biddings or The Mountain doing Cersei's dirty work. But in Scrum, the Master is one who serves you.
As a Scrum project begins, one of the important activities or processes is to identify the Scrum Master and the stakeholders using specific selection criteria. According to A Guide to the Scrum Body of Knowledge (SBOK™), "The Scrum Master is the 'servant leader' of the Scrum Team who moderates and facilitates team interactions as team coach and motivator." In addition to the many soft-skill things they do such as mediating differences of opinion and temperament, each "Scrum Master is responsible for ensuring that the team has a productive work environment by guarding the team from external influences, removing any obstacles and enforcing Scrum principles, aspects and processes." This last task of "enforcing Scrum principles, aspects and processes" is where the term "master" comes into play. The Scrum Master is a Master of Scrum—not of the people he or she works with. Those not wanting to become somebody's Igor can breathe easier now.
What are the selection criteria for choosing a Scrum Master?
The preferred leadership style for Scrum projects is Servant Leadership, according to the SBOK™, and because the Scrum master must be a "servant leader," it would be good to understand this term a bit. This term was first described by Robert K. Greenleaf in an essay titled The Servant as Leader. Greenleaf said that servant leadership "begins with the natural feeling that one wants to serve, to serve first. Then conscious choice brings one to aspire to lead." Elaborating on the writings of Greenleaf, Larry Spears identifies ten traits that every effective servant-leader should possess:
Listening—Servant leaders are expected to listen intently and receptively to what is being said, or not said. They are able to get in touch with their inner voice to understand and reflect on their own feelings.
Empathy—Good servant leaders accept and recognize individuals for their special and unique skills and abilities. They assume workers have good intentions and accept them as individuals, even when there are behavioral or performance issues.
Healing—The motivation and potential to heal oneself and one's relationship with others is a strong trait of servant leaders. Servant leaders recognize and take the opportunity to help their colleagues who are experiencing emotional pain.
Awareness—Awareness, and particularly self-awareness, is a trait of servant leaders. This allows them to better understand and integrate issues such as those related to ethics, power and values.
Persuasion—Servant leaders use persuasion rather than their positional authority to gain group consensus and make decisions. Rather than forcing compliance and coercion, as is typical in some authoritarian management styles, servant leaders practice persuasion.
Conceptualization—The ability to view and analyze problems (in an organization) from a broader conceptual and visionary perspective, rather than focusing solely on the immediate short-term goals, is a unique skill of good servant leaders.
Foresight—Their intuitive minds allow servant leaders to use and apply past lessons and present realities to foresee the outcome of current situations and decisions.
Stewardship—Stewardship demands a commitment to serving others. Servant leaders prefer persuasion over control to ensure that they gain the trust of others in the organization.
Commitment to the growth of others—Servant leaders have a deep commitment to the growth of people within their organization. They take on the responsibility of nurturing the personal, professional and spiritual growth of others (that is, providing access to resources for personal and professional development, encouraging workers to participate in decision making).
Building community—Servant leaders are interested in building communities within a working environment, particularly given the shift in societies away from smaller communities to large institutions shaping and controlling human lives.
Scrum believes that all leaders of Scrum projects (including the Scrum Master and Product Owner) should be servant-leaders who have a strong mix of most, if not all, of these traits. Luckily, many of these traits tend to be developed together—the person with empathy naturally develops a commitment to the growth of others and this inevitably leads to a strong interest in building community.
The SBOK™ sums it up: "Servant leaders employ listening, empathy, commitment and insight while sharing power and authority with team members. Servant leaders are stewards who achieve results by focusing on the needs of the team. This style is the embodiment of the Scrum Master role."
These traits also make an excellent description of a friend.  And that too is the embodiment of the Scrum Master role.
For interesting articles about Scrum and Agile, visit www.scrumstudy.com/blog