If an entire project or portions of it are being completed under a contract, the contract defines the scope of work and the specific terms of the contract. The type of contract used influences project risk.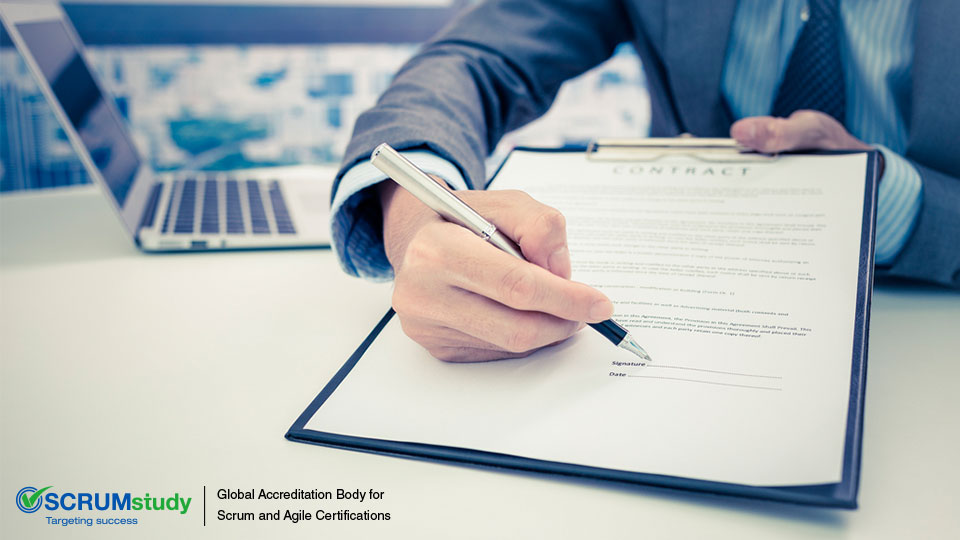 Some of the most common types of contracts used in Scrum projects are as follows:
Incremental Delivery Contract—This contract includes inspection points at regular intervals. It helps the customer or stakeholders make decisions regarding product development periodically throughout the project at each inspection point. The customer can either accept the development of the product, decide to stop the development of the product or request product modifications.
Joint Venture Contract—This contract is generally used when two or more parties partner to accomplish the work of a project. The parties involved in the project will both achieve some Return on Investment because the revenues or benefits generated will be shared between the parties.
Development in Phases Contract—This contract makes funding available each month or each quarter after a release is successfully completed. It gives incentive to both customer and supplier and ensures that the monetary risk for the customer is limited to that particular time period since unsuccessful releases are not funded.
Incentive and Penalty Contract—These contracts are based on the agreement that the supplier will be rewarded with a financial incentive if the project's products are delivered on time, but will incur financial penalties if the delivery is late.
Other popular contract types include paying by features contract, time and materials contract, fixed price and fixed scope contract, and fixed profit contract.